Need a FAST, SAFE & COST-EFFECTIVE solution for your Highways Structures?

The Use of Non-Standard Fills in Reinforced Soil Highway Structures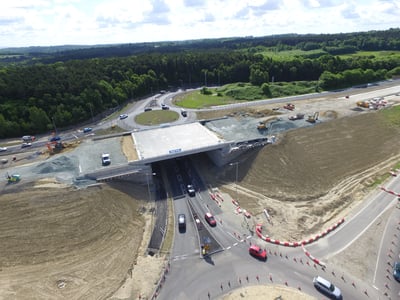 Reinforced soil is becoming a standard way of forming highways structures, instead of more traditional options, frequently involving piling and reinforced concrete.
Tensar's HAPAS BBA certified TensarTech Retaining Wall Structures have been used to build retaining walls, load-bearing abutments and wing walls on many projects around the world.
Engineers who need to maximise the area of development for earth retaining walls and structures but are faced with difficult terrain and geotechnical conditions can turn to Tensar reinforced Retaining Wall Structures for a tailored solution which can meet aesthetic, budget and environmental needs.
Why attend the webinar?
In this Tensar Academy Webinar, we will look at:

Cost savings using TensarTech TW modular block walls vs reinforced concrete

How industry waste materials, like PFA can be used instead of quarried aggregates reducing your environmental impact

How reinforced soil can be used to form load bearing bridge abutments

An introduction to the new HAPAS BBA certified TensarTech ARES panel wall for highway applications
Can't make it?
Register anyway & receive link to on-demand version on the same day as the webinar.