Delivering robust temporary structures
by Craig Roberts, P.E., on 27-Feb-2020 04:39:25
Temporary reinforced soil walls and slopes can offer low-cost and robust alternatives to reinforced concrete for load-bearing bridge abutments and can maximise space on site.
Practicality and economy take priority over aesthetics when it comes to temporary retaining walls and bridge abutments. These structures need to be built safely, quickly and economically, enabling construction to get underway as soon as possible.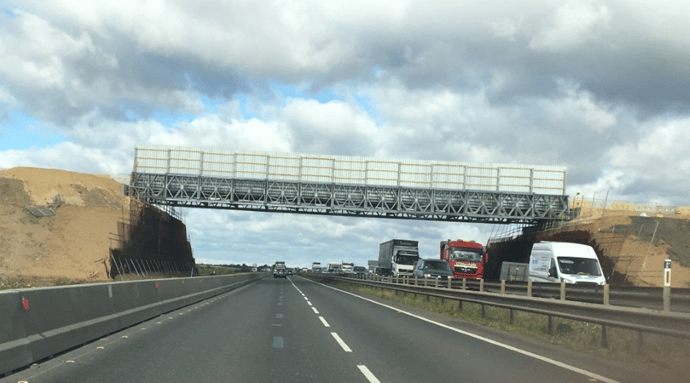 Tensar's TR2 structure being used to form a load bearing bridge abutment over the live A14
Temporary slopes and walls often need to be built in very tight spaces, such as on edges of sites or alongside live infrastructure. This can restrict the use of heavy equipment, so these structures also need to be installed without crane lifts or foundations.
Reinforced soil walls and slopes
Geogrid reinforced soil solutions can deliver temporary walls and slopes which are straightforward to build, with face angles between 45° and vertical, for a lower cost, compared with traditional reinforced concrete structures.
Tensar's TensarTech TR2 system comprises steel mesh face panels, lined with a durable heavy duty geotextile, securely connected to uniaxial geogrids (via a highly effective bodkin connection joint), to reinforce the fill behind. Built using conventional reinforced soil construction techniques, no formwork is needed, as the steel mesh face is braced internally and held in place by the geogrid and fill during construction.
Non-standard [ or Marginal] fill, if suitable, should be used, including selected site-won material, reducing the import of aggregates and removal of excavated material and cutting CO2 emissions by up to half.
And, when they are no longer needed, TR2 structures can be dismantled easily; alternatively they can be backfilled against at the end of a project.
TensarTech TR2 has been used to build temporary structures up to 18m high that can be load bearing – which is particularly important when they are used to build bridge abutments.
A14 Cambridge to Huntingdon Improvement Scheme
TensarTech TR2 delivered stable, low-cost retaining walls for the load bearing abutments to three temporary bridges as part of the A14 Cambridge to Huntingdon Improvement Scheme. The project involved construction of the 27km Huntingdon Southern Bypass and upgrades to 7km of the A14.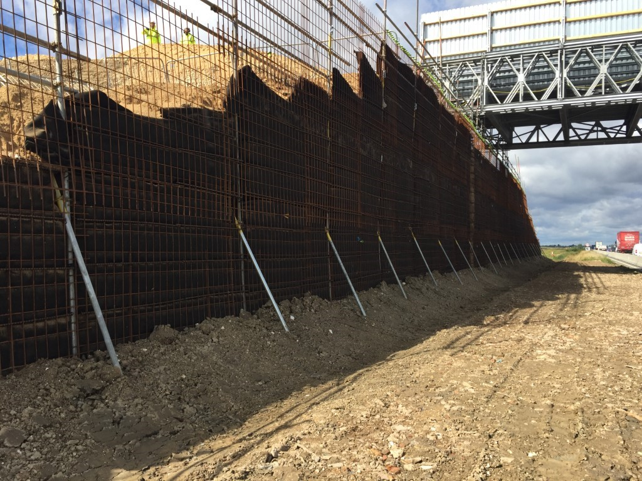 Tensar's TR2 is easy to quick and easy to construct
The Balfour Beatty/Skanska/Costain/Atkins JV delivering the £1.5bn project built 10km of haul roads, including the temporary bridges over the live A14. These allowed materials and equipment to be moved without construction traffic – including 50t dumper trucks – having to use local roads and avoiding disruption to the congested A14.
Tensar designed the reinforced soil abutments to three bridges, one over the River Great Ouse and two over the A14, using TensarTech TR2 with locally-sourced aggregate.
The abutments were designed to carry loads of up to 206kPa over the 3m wide bank seats (including the dead weight of the bridge and live traffic loads). The horizontal load acting at the base of the bank seats was 65kPa. The bridges were used for about 18 months before being dismantled.
Want to learn more about Retaining Walls?
Learn more on our Introduction to Retaining walls page here.