Overcoming the challenges of accessing remote sites
by Jonathan Cook, on 05-Mar-2020 04:59:39
Accessing and setting up site quickly, economically and safely is a key stage for many construction projects, particularly those in remote areas, with little existing infrastructure.
Many construction projects rely on temporary access roads, compounds and laydown areas to get equipment, materials and workers to site. Take onshore wind farms, for example. By their very nature, these facilities are often built in remote areas, on weak and variable ground, so gaining access can be difficult.
Tensar geogrid installation at Middle Muir Windfarm, Scotland
Temporary roads and structures are often unsurfaced. They need to provide sufficient bearing capacity to support the heavy lorries bringing materials and turbine sections to site and to support the cranes lifting the turbines into place. Plus, they often provide longer term access for maintenance vehicles, so have to be long-lasting too.
The power of stabilising geogrids
Incorporating geogrids within the granular material used to form temporary platforms creates mechanically stabilised layers that increase bearing capacity – delivering safer and more reliable bases for heavy plant and high traffic areas. Layers can also be up to 50% thinner, with no loss in performance, and fewer materials are needed, so excavation and disposal is reduced.
Reducing CO2 emissions
Wind energy projects often require large volumes of materials that need to be transported considerable distances to and from site. Reducing material use in construction results in fewer vehicle movements, which can deliver significant CO2 emission savings – by up to 50%, when compared with non geogrid stabilised designs.
Glenchamber Wind Farm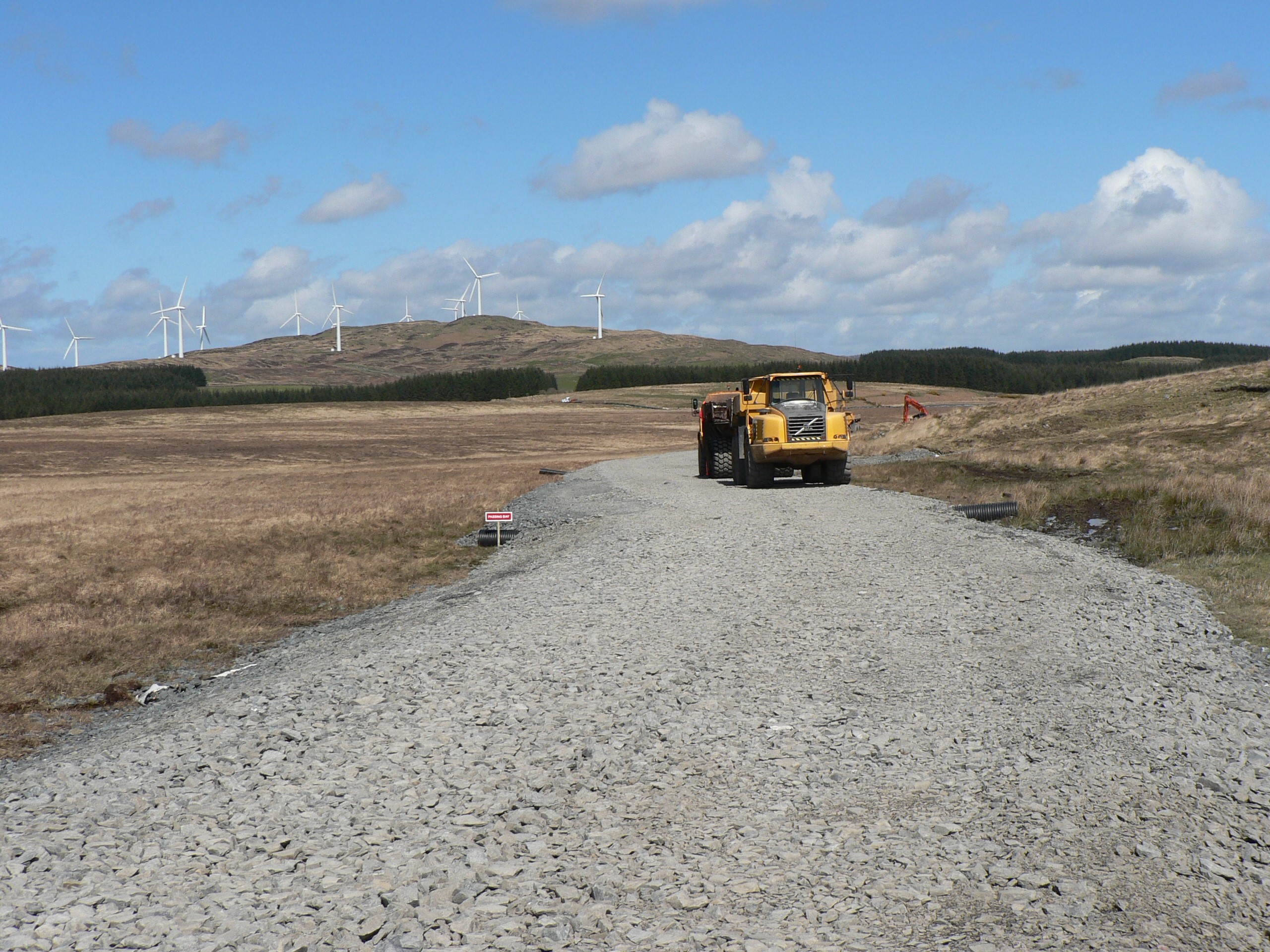 Access road incorporating geogrid allowing heavy machinery to cross over very soft peat
Tensar solutions have been used on many wind farm projects around the world. Construction of the Glenchamber Wind Farm in Dumfries and Galloway, for example, included widening 4.5km of local roads, construction of a new 2.8km access road across the peat bog surrounding the site and 5.9km of unsurfaced tracks to provide access to the turbine locations.
Construction of the tracks and access road was on the project's critical path: they had to be built within a year of the project starting, in time for the arrival of the first turbine sections. As a result, they had to be economical and fast to build; plus they had to perform immediately.
Excavating the thick, very soft peat and replacing it with site-won granular material to form a stable road foundation was impractical, as it would have been time-consuming and expensive – both in cash and carbon.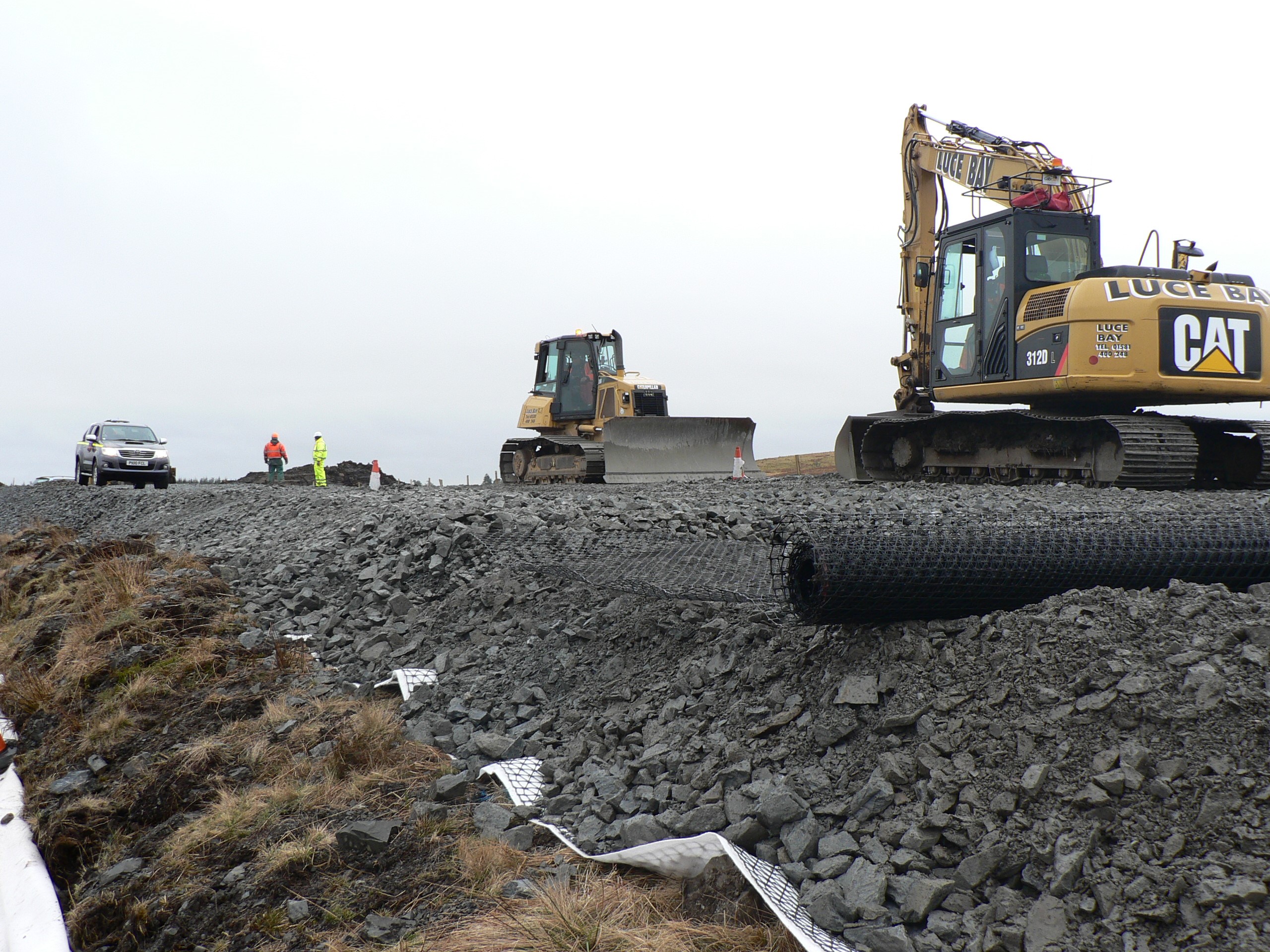 Windfarm access road under construction
Instead, a Tensar geocomposite was laid beneath the granular capping material and a geogrid incorporated within the designed road thickness, to form a mechanically stabilised layer. This increased the aggregate's bearing capacity and delivered roads able to carry the heavy construction loads.
Not only did the design ensure the access roads were immediately ready for the arrival of the first turbine sections, but it will also enable the road to perform throughout the operational life of the wind farm, with minimal maintenance.