The benefits of a Cellular Foundation Mattress
by Andrew Lees, on 09-Apr-2020 04:15:42
Geosynthetic cellular foundation mattresses can be a cost-effective and greener alternative to traditional foundations and ground treatment when building embankments on very weak ground.
Faced with the challenge of building an embankment over weak and variable ground, such as normally-consolidated clays, silts, sands and peat, geotechnical engineers have a number of choices.
The simplest approach is to excavate and replace the weak ground with stronger engineered fill. However, this may be impractical if the deposits are thick. It is also expensive, time consuming and not very environmentally friendly.
Alternatively, deep soil mixing – using chemical binders – can be used to strengthen the ground. While this is greener than 'dig and replace', as it reduces the amount of imported material needed, it is not suitable for all soils and there is a risk of treated soil deteriorating, if there are frequent wet-dry cycles. Treated soil can also be a barrier to groundwater and there is a risk of chemicals leaching into local watercourses.
Piling, vibro-stone or vibro-concrete columns are other options but these are more expensive and, like soil mixing, the heavy plant and equipment needed can struggle on the softest soils.
Geosynthetic cellular foundation mattress
Geosynthetic cellular foundation mattresses are a tried and tested alternative, having been used to support earth structures over weak ground since the early 1980's. Cellular foundation mattresses are typically 1m thick and distinct from the 100-200mm thick 'geocells', used for erosion control, establishing vegetation and pavement applications.
A cellular foundation mattress comprises 'cells' of geogrid filled with granular material to create a stiff foundation platform. This mitigates the effects of differential settlement, reduces lateral spread and can increase bearing capacity to improve stability, which can speed-up embankment construction.
Ground Coffee episode 13: Andrew Lees is back in his kitchen this week, conducting a simple experiment showing the benefits of a geosynthetic cellular foundation mattress
There is usually no need for excavation and removal of subsoil; the mattress is built directly on the weak soil. If required, after filling, it can easily accommodate vertical wick drains to further accelerate consolidation.
Unlike piling or soil mixing, geosynthetic cellular foundation mattresses can be assembled by hand, enabling them to be built quickly and easily – hundreds of square metres can be installed a day – regardless of weather conditions.
They are also greener, as they remove the risk of groundwater contamination and do not form a barrier to groundwater flow. Plus, they allow the use of marginal fill, such as recycled demolition material.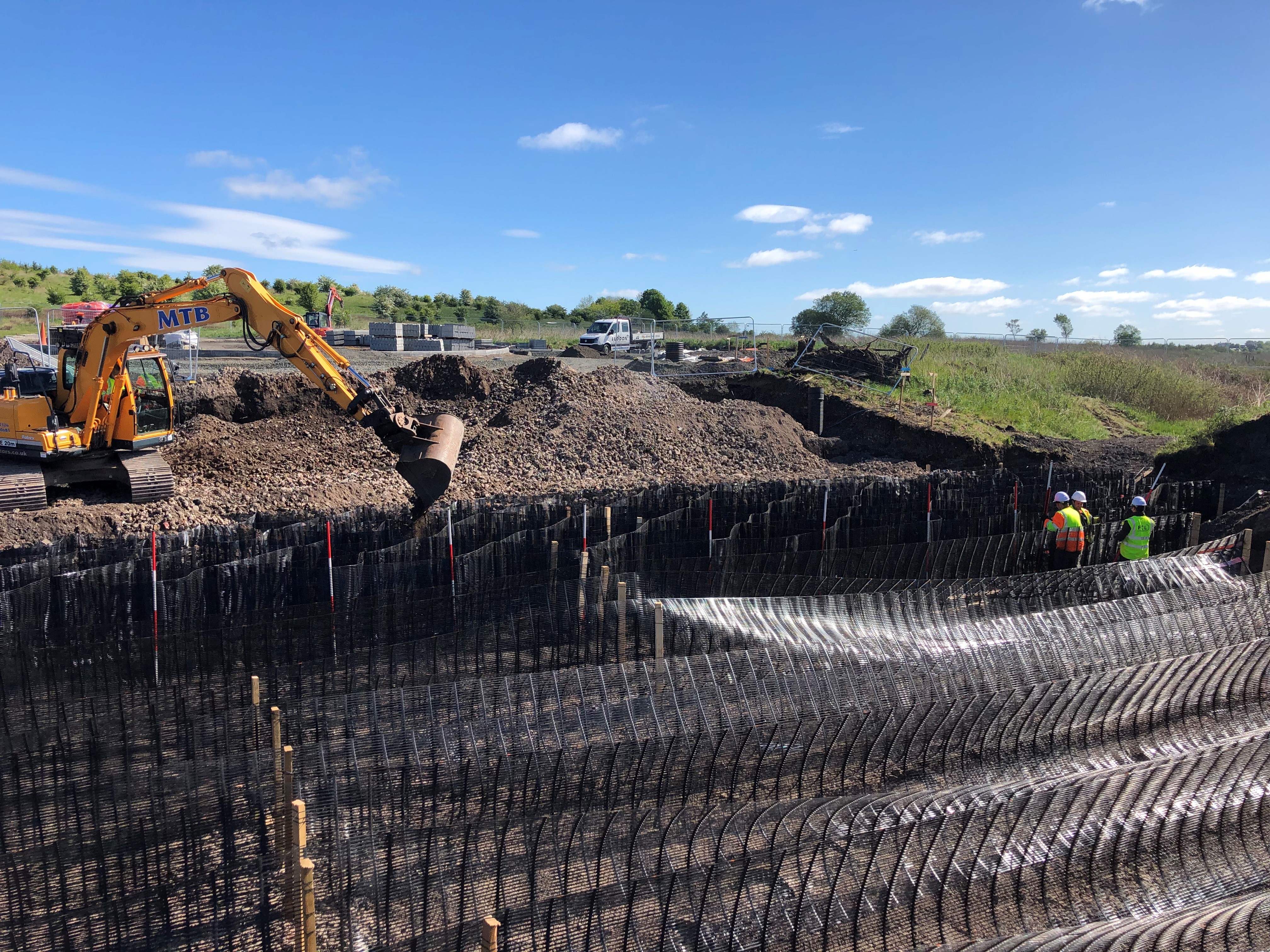 Tensar's TensarTech Stratum Cellular Foundation Mattress has a TriAx geogrid base, with uniaxial geogrid used to form the triangular cell walls.
TensarTech Stratum supports link road embankment in Glasgow
Choosing a TensarTech Stratum Cellular Foundation Mattress instead of deep soil mixing to support a new road embankment saved £0.5m in construction costs on a project at Robroyston, Glasgow, completed in early 2020.
Drone footage of the TensarTech Stratum system being installed at Robroyston in 2019.
The road links the new Robroyston railway station with the M80 motorway and a large housing development. The challenging ground conditions comprising Made Ground overlying glacial clay containing frequent, large peat pockets necessitated an engineering solution to reduce differential settlement of the embankment. Piling for the 580m long embankment would have been prohibitively expensive and the original plan of deep soil mixing would have been time-consuming and complex, with the risk of contaminating nearby watercourses and groundwater.
Working with Glasgow City Council and contractor Luddon Construction, Tensar provided an alternative, indemnified design, using TensarTech Stratum.
Subcontractor Foster Contracting installed up to 1,500m2 of cellular foundation mattress by hand, per week, with the cells filled with compacted recycled demolition material (equivalent to Type 6F2). This created a 1.3m thick stiff raft foundation, improving stability, increasing bearing capacity and reducing differential settlement, plus acting as a drainage layer. Its success has been verified by extensive site monitoring of embankment settlement which has shown differential settlements to be even less than predicted.