by Andrew Lees, on 16-Apr-2020 05:05:53
In cities, where demand for space and the price of land are high basements are a common method of maximising development space.
Constructing basements is more complicated than adding above-ground floors to a building but in cities with planning restrictions limiting building height, such as Washington DC, they may be the only way to create additional space.
Ground Coffee episode 15: Andrew Lees looks at why Washington could be the basement capital of the world.
Aside from dealing with difficult ground conditions and groundwater, engineers have to consider underground utilities and tunnels, foundations and adjacent buildings, plus historic buried structures. Comprehensive, high quality site investigation data is crucial, as is computer modelling, to ensure designs are not only economical but also safe to build and over the long term.
Temporary works design is critical in ensuring basement walls are supported during excavation. Temporary walls and platforms, more often associated with surface works, are also often needed to provide safe working areas in partially-excavated basements. These have to be designed in such a way that they can be built and removed easily, once they are no longer needed.
Delivering safe temporary works at Broadgate
A good example of the importance of temporary works is a project Tensar was involved in a few years ago at Broadgate, in the City of London.
John F Hunt Demolition and its consultant Contractor Design Services approached Tensar to design and supply a solution for a temporary reinforced soil wall within the basement excavation, to provide a safe working area for a 100t piling rig installing foundations for a new building.
To maximise the working area, and to enable the rig to access all the pile locations, the edge of the working area had to supported with a vertical wall, up to 6.6m high.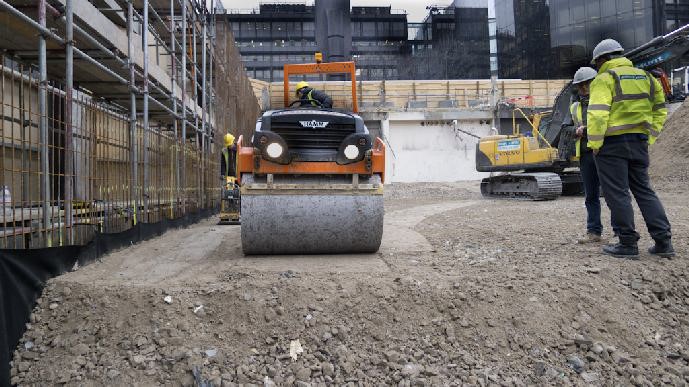 Compacting of the geogrid reinforced granular fill
Tensar's TensarTech TR2 system delivered a robust, low cost solution for the temporary reinforced soil wall. Steel mesh face panels, lined with a durable heavy duty geotextile, were securely connected to uniaxial geogrids (via a highly effective bodkin connection joint), to reinforce the site-won 6F2 fill behind.
Tensar designed the reinforced soil structure to take a maximum bearing pressure from the piling rig of 350KPa just 1m from the wall, with bearing pressures reducing with distance from the face, as the piling rig was not going to be working in those areas.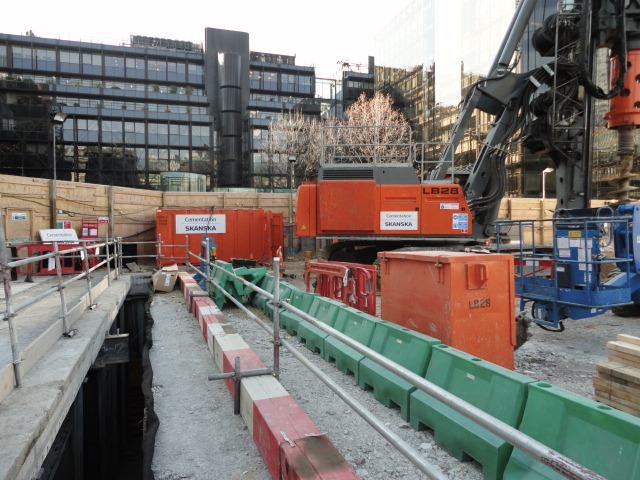 The 100 tonne rig operating close to the vertical face, installing bored piles.
An added benefit of TensarTech TR2 was that no formwork was needed during construction, as the steel mesh face was braced internally and held in place by the geogrid and fill. This meant John F Hunt Demolition's own team could install the wall quickly and easily, without the need for foundations, specialist skills or equipment.
Want to learn more about Retaining Walls?
Learn more on our Introduction to Retaining walls page here.